Reality leaves a lot to the imagination – John Lennon
John Lennon was the man. And the Beatles were the band. Fuck the Rolling Stones. I loved them from the start and John was always our favorite. As little kids we would pretend to be the Beatles and we would have to take turns on who would be John. Serious. Check out this pen and ink drawing I did. It's from 1966 in our house in Avenel, New Jersey. 350 Ella Avenue to be exact.
That's me, third from the left with the ears. In order it's my sister Lisa, Donald Mason, me and finally Donna McCullough from next door.  Anyway check out Donald and me playing one of the earliest sightings of 'Air Guitar'! Mason had won and was officially pretending to be John for the photo while I was officially pretending to be Paul. When in fact, I was only pretending to pretend to be Paul. All the while I was really, seriously, pretending to be John the whole time. I mean, look at Mason slouching like that!! Lennon never slouched! His back was always straight as a board….. like mine. Lol.
The original pen and ink of John from the Sargent Pepper era was drawn in my 3rd sketchbook. All my sketchbooks are littered with drawings of Lennon, but this is the first to make it into my 'LickedinPop Series'.
Time you enjoy wasting, was not wasted.
1) He was a choir boy and a boy scout: Yes, John Lennon, the great rock 'n roll rebel and iconoclast, started his singing career as a choir boy at St. Peter's church and was a member of the 3rd Allerton Boy Scout troop.
2) He was the last Beatle to learn how to drive: John got his driver's license at the age of 24 (Feb. 15, 1965). This late attempt at driving seems to be for good reason- he was a terrible driver. He finally gave up driving after he totaled his Aston-Martin in 1969 on a trip to Scotland with his wife, Yoko Ono, his son, Julian, and Kyoko, Ono's daughter. Lennon needed 17 stitches after the accident. He and Yoko mounted the wrecked car on a pillar at their home in England. He always used a chauffeur or driver after this incident.
3) He was the only Beatle who didn't become a full-time vegetarian.  George Harrison was the first Beatle vegetarian; according to most sources, he became an official vegetarian in 1965.  Paul McCartney joined the "veggie" ranks a few years later. Ringo became a vegetarian not so much for spiritual reasons, like Paul and George, but because of health problems. John had toyed with vegetarianism in the sixties, but he always ended up eating meat, one way or another.
4) John Lennon once almost beat a man to death: Rumors that John Lennon was gay were swirling when things came to a head with a disc jockey the Beatles knew named Bob Wooler.  Wooler was a very close friend of the Beatles and had introduced them on stage some 300 times.  This incident happened at Paul's 21st birthday party, on June 18, 1963.  At the party, Wooler was joking around with John and said (with heavy gay intimations): "Come on John, what really happened with you and Brian? Everybody knows anyway, so tell us."  John had been heavily drinking that night and Lennon was a notorious "bad drunk".  In a blind rage, John proceeded to beat the stuffing out of a very surprised Bob Wooler, literally kicking him repeatedly in the ribs as he lay on the ground in a bloody heap.  According to John, the only reason he actually stopped the savage beating was because, "I realized I was actually going to kill him…  I just saw it like a screen. If I hit him once more, that's really going to be it. I really got shocked and for the first time thought: 'I can kill this guy.'"  Wooler was rushed to the hospital and given treatment for a variety of things, including broken ribs.  Luckily for John Lennon- and the Beatles' future amazing run- Wooler survived the ordeal.
5) He hated his own voice:  Incredibly, one of the greatest singers in the history of rock music, John Lennon hated his own voice and loved to double-track his records. He would often ask the Beatles producer, George Martin, to cover the sound of his voice: "Can't you smother it with tomato ketchup or something?"
6) He was dissatisfied with all the Beatles' records: Dining with his former producer, George Martin, one night years after the band had split up, John revealed to Martin that he'd like to re-record every Beatles song. Completely amazed, Martin asked him, "Even 'Strawberry fields'?"  His response, "Especially 'Strawberry Fields'".
7) He loved to play "Monopoly": During his Beatle days, John was a devout Monopoly player. He had his own Monopoly set he'd bring with him and often played in his hotel room or on planes. He was crazy about the properties "Boardwalk" and "Park Place".  He reportedly didn't generally care too much if he lost the game, as long as he had "Boardwalk" and "Park Place" in his possession.
8) He sometimes slept in a coffin: According to Allan Williams, an early manager for the Beatles, John liked to sleep in an old coffin. Williams had the old coffin on the premises of his coffee bar "The Jacaranda". As a gag, John would frequently nap in it.
9) The best lyric Lennon ever wrote: A friend once asked John the best lyric he ever wrote.  "That's easy", replied Lennon, "All you need is love".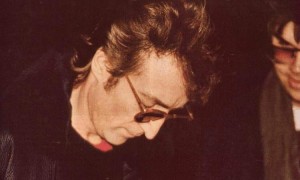 10) The last photograph of John Lennon: In this last photo of John Lennon while he was alive, he was signing an album to the person who was to assassinate him a few hours later. John obligingly signed a copy of his latest album "Double Fantasy" on the morning of his death for his killer. Later that same day, John returned from the recording studio and was gunned down by Mark David Chapman. Morbidly, a photographer later sneaked into the morgue containing John's body and snapped a photo of it before it was cremated. John's body was cremated the day after his assassination. Yoko Ono has never revealed the whereabouts of the ashes or what she did with them.
11) John was originally supposed to sing lead on the Beatles' first record "Love Me Do" (1962): John sang lead on a great majority of the early Beatle records, but Paul took the lead on their very first record. The lead was originally supposed to be John's, but because John had to play the harmonica, it was instead given to Paul.
12) The last time he saw Paul was April 24, 1976: Paul was visiting him at John's New York apartment. They were watching "Saturday Night Live" together when producer Lorne Michaels, as a gag, offered the Beatles $3,000 to come on the show. John and Paul almost took a cab to the show, but finally decided against it. (It would have been one of the great moments in television history. Too bad!)
 As usual, there is a great woman behind every idiot.
Famed singer-songwriter John Lennon founded the Beatles, a band that impacted the popular music scene like no other before, or since.
Lennon was born on October 9, 1940, in Liverpool, England. He met Paul McCartney in 1957 and invited McCartney to join his music group. They eventually formed the most successful songwriting partnership in musical history. Lennon left the Beatles in 1969 and later released albums with his wife, Yoko Ono, among others. On December 8, 1980, he was killed by a crazed fan named Mark David Chapman.
All work in the LickedinPop Series begins as an original pen and Ink illustration. Rich and colorful, it is my homage to the work of Roy Lichtenstein tuned to my favorites in pop culture. Beautiful reproductions of  'John Lennon' and all my work in the LickedinPop Series are available for sale at my Etsy Store. Please come visit!